http://out-time-in.blogspot.de/
Lichtmalerei von Enrico Pietracci
Nach Jahren des Experimentierens, basierend auf der durch die reine Linie bestimmten intuitiven Live-Zeichnung von Tanz und expressiver Bewegung, beginnt für den Künstler eine neue kreative Phase die der Fotografie, genauer gesagt der Fotomalerei gewidmet ist.
Diese neue Richtung in der Erforschung der Ästhetik findet ihren Ausdruck in einem dynamischen Dialog zwischen dem Subjekt – der Performerin und dem visuellen Künstler.
Light-painting by Enrico Pietracci
After years of experimentation, based on the intuitive live-drawing of dance and expressive movement determined by the pure line, the artist starts a new creative phase which is dedicated to photography, or more correct to photo-painting.
This new direction within the research of esthetics is articulated in a dynamic dialog between the subject – the performer and the visual artist.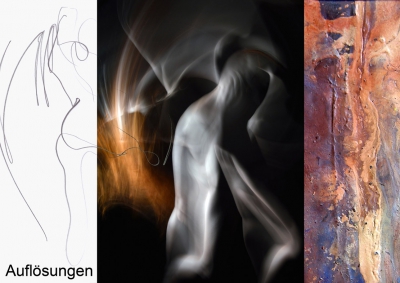 coming soon